You are at: Planned Giving > Gold Star Society
Gold Star Society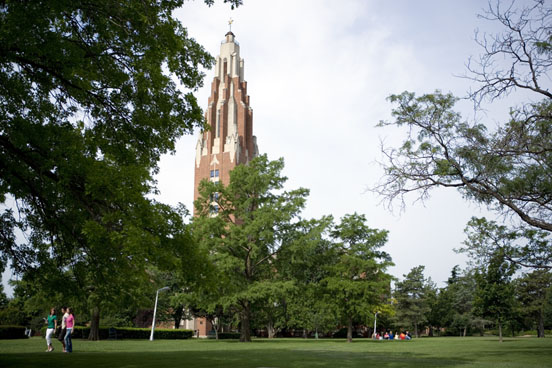 Just as the Gold Star Building memorializes those from our Oklahoma City University community who lost their lives in service to our country, the Gold Star Society recognizes those who have made everlasting gifts to the future of Oklahoma City University
The Gold Star Society represents the past, present and future of Oklahoma City University. The Gold Star Society honors alumni, donors and individuals who have chosen to support the university by including Oklahoma City University, regardless of the amount, through a deferred or estate gift.
Your legacy gift can transform Oklahoma City University in a variety of ways. You may wish to establish a scholarship to assist a deserving student; establish an endowed chair or professorship to enable the university to attract and retain outstanding faculty; support a program or project in the academic unit of your choice; or direct your gift to be used where the need is greatest.
Gifts That Qualify for Gold Star Society Recognition
The Gold Star Society recognizes alumni, donors and individuals who provide support for Oklahoma City University through a variety of estate planning tools.
Estate Planning Gifts eligible for recognition are:
Bequest commitments made by will or revocable living trust;
Designation of Oklahoma City University as a beneficiary of an IRA, 401(K) or other retirement plan;
Charitable Gift Annuities;
Charitable Remainder Trusts;
Establishing an account (bank, brokerage, mutual fund, etc.) that is payable on death (POD) to Oklahoma City University;
A gift of a farm or residence with a retained life estate.
Naming Oklahoma City University as beneficiary of a commercial annuity;
Life insurance, naming Oklahoma City University as owner, beneficiary or both.
Please Let Us Know
While the details of all planned gifts remain confidential, we would enjoy the opportunity to convey the university's appreciation for your commitment. Please
let us know
so we may welcome you as a Gold Star Society member.